Plugs Directly into the Apple Lightning port
Direct-connect, bypasses all Apple analog electronics using a digital audio link and supplies charging power when the included AC adapter is plugged in.
Powered by the device or external power supply
On the bottom of the microphone is a 1.3mm 5.0VDC power jack input for iOS device charging. A universal voltage AC power adapter is included.
On-board Analog Electronics
A high-resolution analog preamp, regulated low-noise power supply, Analog-Digital Converter (ADC), and Digital-Analog Converter (DAC) are used for precision measurements and audio quality.
Factory Calibrated
Calibration is stored in the microphone for instant accurate SPL readings. Just plug iTestMic2 into your iOS device, launch AudioTools or another Studio Six Digital audio test app, and the calibration is automatically transferred to the app for accurate SPL readings. S6D use a regulated internal power supply, calibration will not change with varying iOS device voltage. No user calibration is required.
At any time, you may use a standard 1/2" nominal calibrator and check or adjust the calibration.
Each iTestMic2 now includes individual frequency calibration files that improve the frequency resolution of the microphone and cancel out any minor capsule deviations.
Analog Output
iTestMic2 includes a 3.5mm (1/8") stereo analog audio output jack for test signals as well as general purpose audio output.
Note that this is a full-level output and does not respond to iOS level controls.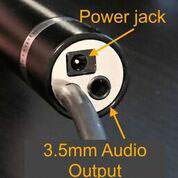 Professional Test & Measurement Microphone
The 1/2" nominal diameter microphone has been designed to minimize high-frequency diffraction effects for the flattest frequency response.
iTestMic2 has 2 gain ranges to support a wide 25-120dBA SPL range.
The microphone capsule and electronics provide an extremely flat response,with low frequency response to 10Hz for accurate measurements below the audible audio range.
Includes
iTestMic2 with Lightning connector
Power supply
Wind screen
Mic clip
Calibration certificate
Specifications
Audio
20Hz - 20kHz +/- 3dB
Omnidirectional pattern
26 dBA - 120 dBA performance in two ranges
NC Limit: Below NC29
Two gain ranges, 26-104 dBA, and 49-120 dBA
Mono input signal, present at both Left and Right iOS device input channels
Output
3.5mm (1/8") stereo analog output jack (full volume level)
Low-distortion output
iOS Device Charging
1.3mm 5.0V charging input jack supplies up to 2.1A @5V to iOS devices
Requires 3.5A 5V pin+ power adapter (included)
Power supply includes plug socket compatible with:
UK (Type G)
EU (Type C)
USA (Type A)
Australia (Type I)
Microphone
Excellent immunity to cell phone RF noise
Factory calibration stored internally, calibrated with a NIST-tracable 94.0 dB pressure-compensated calibrator
1/2" nominal size, fits all standard calibrators
Consumes less than 90ma in use
1.0m (37") Lightning cable length
Compatibility
iPhone 5, 5C, 5S, 6, 6s Plus, 7 Plus, 8, 8 Plus, 9, X, XS, XS Max, XR, 11, 11 Pro, 12
iPad Mini 2
iPad Air
iPad Pro with Lightning Connector
iPod Touch 5th & 6th generation
Technical Information
The dual-gain range mic preamp, A/D converters, D/A converters and USB digital audio interface are all contained within the mic itself, so no Apple analog electronics are used. This lets us bypass the heavy filtering and compression that are normally in use, and also to store calibration values that are read by software. 
iTestMic2 is equivalent to having a pro Type 2-class test & measurement mic, low-noise matched preamp with two fixed gain ranges, A/D converter, DAC, and USB digital audio interface, all combined in one portable device.
iTestMic2 meets ANSI / ISO Type 2 specifications for frequency response, linearity, and directional characteristics.  S6D do not guarantee that this microphone can meet the strict environmental requirements of Type 2 or Type 1.
Support